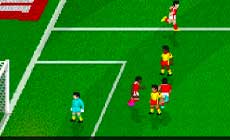 Retro Goal
Retro Goal
Gameplay
Retro Goal is a fast-paced online soccer game that puts your skills to the test. With intuitive controls and a nostalgic pixel art style, you'll feel like you've been transported back to the golden age of arcade gaming. The objective is simple: score as many goals as possible before the timer runs out. But don't be fooled by the simplicity - the game's challenging AI opponents will give you a run for your money.
Nostalgic Visuals and Sounds:
Retro Goal's pixel art graphics and chiptune soundtrack will transport you back to the era of classic arcade games. From the vibrant colors of the pitch to the satisfying sound effects of kicking the ball, every aspect of the game has been carefully designed to evoke a sense of nostalgia. Whether you're a seasoned gamer or new to the genre, Retro Goal is a must-play for anyone who loves old-school gaming.