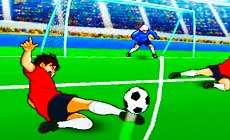 Fierce Shot
Fierce Shot
Gameplay
Experience non-stop, fast-paced shooting action in Fierce Shot! Play as a skilled marksman and take on various challenging missions, from defending a base to eliminating enemy forces. Upgrade your weapons and skills to become an unstoppable force on the battlefield. With its smooth controls and thrilling gameplay, Fierce Shot will keep you on the edge of your seat!
Features:
Intense and challenging missions that will test your shooting skills
A wide variety of weapons to choose from, including rifles, shotguns, and more
Skill upgrades to enhance your abilities and take down enemies with ease
Smooth and responsive controls for a seamless gaming experience
Stunning graphics and realistic sound effects to immerse you in the action
Get ready to unleash your inner sniper and take on the most dangerous missions in Fierce Shot!