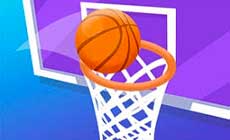 Basketball Challenge
Basketball Challenge
Gameplay
Basketball Challenge is an adrenaline-pumping online sports game that immerses players in the electrifying world of basketball. Engage in intense multiplayer matches or solo challenges as you strive to become the ultimate basketball champion. With its intuitive controls and realistic physics, this game offers an authentic basketball experience right at your fingertips.
Immerse yourself in fast-paced matches where precision and strategy are crucial. Dribble, pass, and shoot your way to victory while outsmarting opponents with clever maneuvers. Show off your skills by executing gravity-defying slam dunks, nailing three-pointers from downtown, and performing jaw-dropping crossovers that leave defenders in awe.
Choose from a variety of teams, each with their unique strengths and weaknesses. Customize your player's appearance and abilities to reflect your style on the court. Progress through challenging tournaments, unlocking new arenas and gaining recognition as you climb the ranks.
Beyond the thrilling multiplayer battles, Basketball Challenge offers a captivating single-player mode. Take on a series of engaging challenges, such as time-limited shooting drills or one-on-one duels against AI opponents. Test your skills, improve your technique, and earn rewards to enhance your player's attributes.
Join a vibrant online community, where you can compete against friends or players from around the world. Engage in friendly rivalries, form teams, and participate in leagues and tournaments to prove your dominance on the global stage.
With its stunning graphics, realistic animations, and immersive sound effects, Basketball Challenge transports you to the heart of the basketball court, capturing the intensity and excitement of the sport like never before. Are you ready to take on the challenge and become a basketball legend?
Get ready to experience the ultimate basketball showdown in Basketball Challenge. Play, compete, and rise above the competition to etch your name in basketball history!